Also Read
Feast: A voice of an era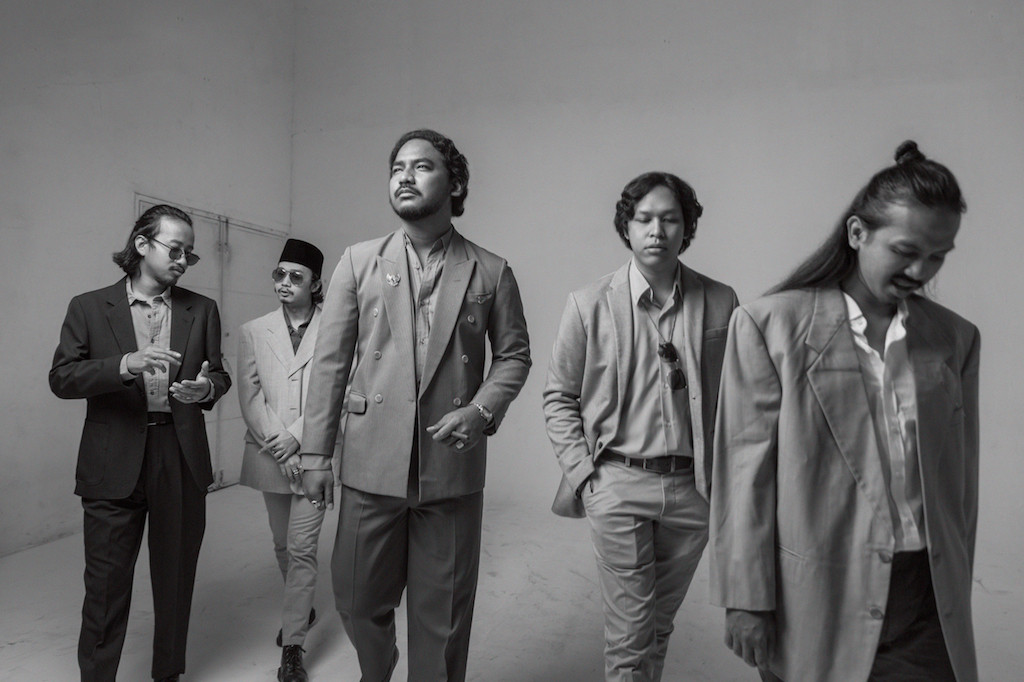 The members of Jakarta rock band Feast. (Couresy of Feast/-)
Their songs are the anthem of today's youth, who have rallied in mass student protests nationwide over the past two years, although being firebrand critics or human rights defenders is not what the band's members have in mind.
Feast, stylized as ".Feast" to differentiate it from two overseas bands of the same name, formed in 2012. After eight years on the music scene, they've come to be known as a very prolific band.
They have produced a number of tracks gathered into one full-length album and one mini album that sat well with the political and socially conscious, while their latest, a mini-album called Uang Muka reflects the pandemonium today.
Released by record label Sun Eater on digital streaming platforms on Sept. 11, 2020, Uang Muka, which translates to "down payment", talks about every imaginable dimension of the relationship between humans and money.
"As the pandemic restrictions started, we soon realized its hidden impact, which had been overshadowed by the health threat, which is the economy of the people," said Dicky Renanda Putra, the lead guitarist, in a video interview with the band on Nov. 10.
Vocalist Baskara Putra added, "Funny that it just struck me as we talked that the songs are all about how people earn money during the pandemic and how they spend it. That's the polemic we all have right now. And even the most physically healthy people are suffering financially."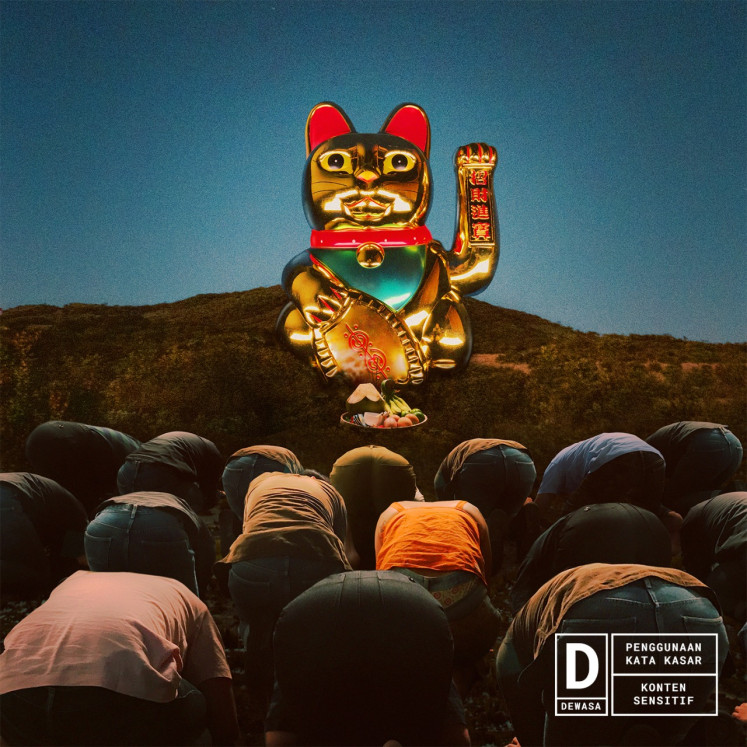 On a pedestal: The cover art of Feast's mini-album 'Uang Muka'. The band has produced songs that reflect the social, political and economic issues of the country. (Couresy of Feast/-)


Satirical messages start appearing right from the album cover, which depicts a golden Maneki Neko, the Japanese beckoning lucky cat statue, and huddled masses bowing to it.
The first track is the intro of a tongue-in-cheek speech about the currency of the world, and the meta-world, by eccentric musician Jason Ranti, also known as Jejeboy.
The following five tracks are each contributions from one member of the band, each of whom used their time stuck at home to hone their production skills from scratch, showing off their own musical influences and preferences. Although they have never called themselves a rock band, the genre fittingly describes the album.
Baskara offered "Dapur Keluarga" (Family Kitchen), which juxtaposes its double meaning of putting food on the table and of a family secret to talk about those who brush off ethics to earn livelihoods on a plate of bluesy, old school rock that fans of Feast are familiar with.
"Komodifikasi" (Commodification) by Adnan Satyanugraha Putra, the band's rhythm guitarist, questions those who sell drama on social media for fame and money in an aggressive trap metal track that definitely calls for mass chanting.
Bassist Fadli "Awan" Fikriawan Wibowo created "Cicilan 12 Bulan (Iklan)" with his vintage flavor of garage rock to talk about shopping ads offering easy installment plans and consumerism.
Fans of Feast's previous mini-album Beberapa Orang Memaafkan (Some People Forgive) will note in Dicky's track "Belalang Sembah" (Praying Mantis), which was born of his musical explorations with Logic Pro, how social and economic status plays a role in romantic relationships.
Drummer Adrianus Aristo Haryo, also known as Ryo Bodat, returned to his roots as a fan of deathcore music with "Kembali ke Posisi Masing-masing" which translates to "remember your place", coming from his exasperation with being told to shake off dreams of living a comfortable life.
The outro, titled "Apa Boleh Buat", a phrase that accompanies a shrug, is an extension of Ryo's song. He sings the lyrics with no letter "r" included, due to his speech impediment, and is accompanied by Dicky's guitar.
The album came as a surprise to their fans as the band has been working on full-length album Membangun dan Menghancurkan (Build and Destroy), with four digital tracks available since June 2019, including "Dalam Hitungan" (In Numbers) and "Tarian Penghancur Raya" (The Dance of Mass Destruction).
It is their most ambitious project to date. They have described it as a production-heavy album that includes various non-musical elements such as environmental and cultural issues, as well as the use of a live choir and brass ensemble.
It has involved music producers they had not previously worked with, except for Wishnu Ikhsantama, in the hope they could help set new directions for the band's music.
"Working on an album is similar to writing a thesis. The first and foremost question is why this album should exist," said Ryo, explaining their approach to their music.
In a reference to versatile musician Nina Simone's famous quote, which inspired a lot of artists to reflect the times in their work, Adnan said they would go through the details of the delivery of their music down to their stage costumes.
"We want to present a complete story in which every song has its own character, the marking of an era. Each song has the markings of the year of its release."
That is how their album is being treated – as a universe unto itself in terms of music, visuals and other elements. Uang Muka, for example, was marked as Earth-08, a world in which everything is commercially-driven – an extreme caricature of the real world and its consumption habits.
As their world continues in 2021, Feast is gearing up for their much-awaited next physical album.
"We don't have the ambition to make songs that are impactful on the people. But the impact they have made on listeners will fuel us to keep going," said Awan. (ste)